Dashain is the greatest festival of Nepal, the festival is celebrated by Nepalese with great joy, sharing gifts and wishes with family, relatives. Putting Tika & Jamara, taking Ashirwad from from family members is the soul of Dashain. It is said that Goddess Durga killed Mahishasura and Lord Ram killed Ravan, It is celebrated as the victory of truth over untruth & known as Vijaya Dashmi. Which is also popularly known as Dashain. The Dashain is celebrated in Nepal from ancient times by worshiping Goddess Durgamata & exchanging good wishes for health and prosperity.
Date of Dashain Festival 2077
This year BS 2077, First-day Ghatasthapana on Kartik 1 (October 17), Phulpati on October 23 and Bijaya Dashami is celebrated on Kartik 10 (October 26). On this day, we receive Tika & blessings from respective Family members and relatives. The Dashain will conclude on the Kojagrat Purnima on October 30.
Dashain Tika Date 2077
-> Kartik 1 – Ghatasthapana
-> Kartik 7 – Fulpati
-> Kartik 8 – Maha Astami
-> Kartik 9 – Maha Nawami
-> Kartik 10- Bijaya Dashami ( TIKA )
-> Kartik 14- kojagrat Purnima
-> Kartik 15 – Purnima
Happy Dashain Wishes
Happiness is the greatest wealth of people, which can be expressed through good wishes. Good wishes are not just words but also a feeling which shows the importance of our lives. Dashain Wishes are the best way to express your feeling, as well as Dashain greeting card is another best way for you to wish and show respect to others. If You are looking Dashain greeting card, you can find it online for free.
It is the tradition of Dashain to celebrate by receiving blessings & wishing good health and prosperity to your loved ones, family members, relatives, and friends. Here are some Dashain wishes and SMS for you to exchange with your family, relatives, friends & loved ones. Send it, exchange it and celebrate Dashain with happiness. WISH YOU A VERY HAPPY DASHAIN.
भाग्य चम्कोस सबैको,
सबैको होस् सुख सम्रिद्धी,
सुख शान्तीको बास होस् चारै तिर
माता दुर्गाको आशिर्वाद रहिरहोस् सर्बदा
बिजया दशमी २०६६ को येही छ शुभकामना
Nidhara ma Rato tika hos,
Kaan ma Jamara hos,
Shir ma Thula ko Ashirbaad,
Bijaya Dashami 2077 ko
Yahi chha Mangalmaya Subhakamana.
बिजया दशमी सधैं आऊ
तिमी सबैको उन्नती बनेर
चुनौती सामना गर्ने शक्ति बनेर
निधारमा रातो टिका, जमरा बनेर
उज्यालो र ज्ञान मय बनेर
खुसीयाली र उल्लास बनेर
सबैका लागि सधैं मंगलमय बनेर
सबै सबैलाई शुभकामना बनेर
Tika Hos Nidhar ma,
Jamara hos Kaan ma,
Sukha hos Pariwar ma
Shanti chhaos Jiban ma
Yahi chha 2077 Saal
Bada Dashain ko Subhakamana.
Yo Saal ko Dashain Ma
Mata Durga Bhawani Daahine Rahun,
Mata Laxmi le Baas Garun,
Sampurna Nepali ko Ghar Aangan Ma
Mata Durga ra Mata Laxmi le
Khushiyali ko Barsha Garun
Yehi nai Sabailai Dashain ko
Hardik Mangalmaya Subhakaamanana
दशैंमा दुर्गा भवानी दाहिने रहुन,
तिहार लक्ष्मीले बास गरुन,
सम्पूर्ण नेपालीको घर आंगनमा
माता दुर्गा र माता लक्ष्मीले
खुशीयालीको बर्षा गरुन
यहि नै सबैलाई दशैंको
हार्दिक मंगलमय सुभकामना
Maulai rahos dubo sari
Chhayi rahos sansar vari
Chamki rahos jun sari
Baachi rahos juni juni
Yahi chha Dashain 2077
Mangalmaya Shubhakamana.
दूबो झैँ जीवन मौलावस
सधै भरि मन खुसी रहोस
सफलताले शिखर चुमिरहोस
अजर अमर आयु होस्
नवदुर्गाको आशिर्बाद लागोस
यहि छ बडा दशैँको शुभकामना
Dashain Aayo, Khusiyaali Chhaayo
Rahanu Harsha ra Umanga
Khusi ra Sukhamaya Bitos Timro Jiban
Yahi Chha Dashain 2077 ko
Hardik Mangalmaya Shubhakamana.
Like God Ram killed Ravan,
Mata Durga killed Mahishasura,
Let everyone kill their
Anger, Arrogance & greed
Live happily & smiling always,
Best wishes for Dashain 2077.
Dashain Ayo Tihar Ayo,
Gaughar Ma hola Kati Ramailo
Pardesh Ma chhaina ChadBaad
Lagchha Sabai Malai Herda Ujaad
Hey Mero Aama, Hey Mero Baba
Samjhi Malai Dashain ma Narunu
Yo Dashain ta Yasai gayo,
Arko Saal Tika Thapna Abasya Aaunechhu
Oth ma Timro Haso Hos
Goji ma Timro Dhan Hos
Paaila Paaila ma Ganesh Hos
Mukha ma Sharswati ko Baas Hos
Jiban Timro Sukhamaya Hos
Bijaya Dashami 2077 ko
Yahi chha Subhakamana.
Dashain auncha jancha, dasha na aaos
Nidhar ko Tika khasepani bhagya nakhasos,
Kaan ko Jamara sukepani, khushi nasukos,
Ping ko Dori chudiepani sambandha nachudios.
HAPPY DASHAIN 2077.
Let this Dashain Enter 3S in Your life
welcome, Sukha, Shanti, and Samriddhi
Happy Dashain 2077 to you and your family.
A Cup of hello,
A full plate of wishes
A spoon of sweet smiles
A slice of great success for you
Happy Bijaya Dashami 2077.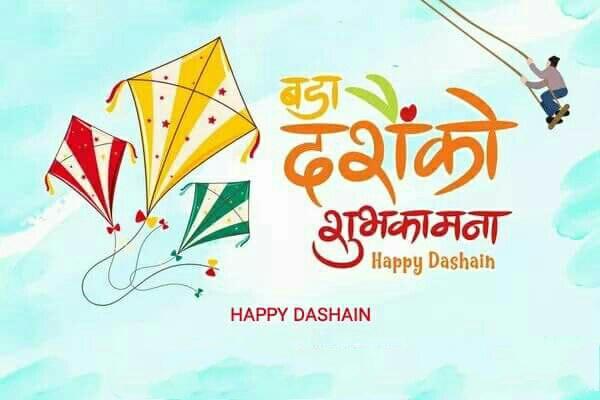 Happy Dashain Wishes, SMS, Quotes & Messages
Mata Durga le Tapaailaai Dusta lai Parajit garne Shakti diyos, Dukh maa Sahanshakti Pradan garos, Yahi Mero Bijaya Dashami 2077 ko Subhakamana.
Wish you a very happy Bijaya Dashami, this May brings you happiness, a successful & prosperous healthy life.
Vijaya Dashami ko Paawan Awasar maa dherai dherai subhakamana.
Desh bidesh ma rahekaa sabai Nepali harulaai Bijaya Dashami ko Mangalmaya subhakamana.
Sukha Shanti Milos, Dhan ko Barshaa Hos, Vijaya Dashami ko lakhau lakh subhakamana.
Sukha Shanti Milos, Dhan ko Barshaa Hos, Vijaya Dashami ko lakhau lakh subhakamana.
Mata Durga Bhawani ko Aashirwad le sabaiko Jiwan Sukhamaya Banos, Jiban ma Khushiyaali chhaos.
Bijaya Dashami ko upalakshya ma sampurna Nepali haurma hardik mangalmaya subhakamana .
Bada Dashain 2077 ko paawan Upalakshya ma Sabai Nepali Dajubhai Didibahini harumaa hardik Mangalmaya subhakamana.
Happy Dashain to all Nepali, Wish you a happy and prosperous life ahead.
Bijaya Dasami ko Pawan Abasar ma Sampurna Desh tatha Bidesh ma rahanu hune Nepali Jan ma Sukha Santi Samridi ra Dirgauko Hardik Mangalmaya Subhkamana.
On the auspicious occasion of Vijaya Dashami, I wish warm greetings and best wishes for a happy and successful life to all my friends.
Tika Hos Nidhar ma, Jamara hos Kaan ma, Sukha hos Pariwar ma. Shanti chhaos Jiban ma. Yahi chha 2077 Saal Bada Dashain ko Subhakamana.
Happy Bijaya Dashami to you and all, Mata Durga May bless you for peace, prosperity and happy life.
Sukha Shanti Chhaos, Khusi le Baas garos, Aateka sabi kam Pura Hos, Mata durga bhawani le Rakshya Garun…..Yahi chha Bijaya Dashami 2077 ko Subhakamana.
Sampurna aafanta tatha sathi haru lai Dashainko subhakamana.
Dashain Funny Wishes
Paani Khojda Beer Bhetiyoos
Dhara Kholda Vodka Jharos
Chicken Khada Sapro Paros
Mutton Khada Hyakula Paros
Yehi nai chha Dashain 2077 ko
Mangalmaya Subhakamana.
Ghyampo bhari Raksi hoss
Plate ma Chicken fry hos
Haat ma ekka ko Trail hos
Jiwan ma Sukha Shanti hos
Yahi chha Subhakamana,
Happy Dashain 2077
Know More about Dashain
Dashain is known as a different name, Bada Dashain, Dussehra, Vijaya Dashami. It is said that Lord Ram killed Ravan on this day. It is celebrated as the victory of truth over untruth. Therefore, it is known as Vijaya Dashmi. It is a celebration of joy and exhilaration and victory.
Dashain has a cultural aspect. Dashain is the biggest festival of Nepalis and especially of Nepali Hindus. Dashain is celebrated for 15 days, but from Ghatsthapana to Purnima (Kojagrat) first 10 days are mostly celebrated. Ghatsthapana on the first day, Fulpati on the seventh day, Mahaashtami on the eighth day, the ninth day is called Mahanavami and the tenth day is called Vijaya Dashami.
Fulpati brought from the Dashain house of Gorkha Durbar is brought to Kathmandu Hanumandhoka Darbar. On the eighth day, the special worship of Mahakali (Bhadrakali) is performed. On a ninth day, Goddess Mahalakshmi is especially worshiped. The tenth day is called Vijaya Dashami. From the tenth day onwards, receiving Tika from family and relatives starts, it continues till the Kojagrat Purnima. After Kojagrat Purnima the Dashain festival finishes.
Dashain Festival Dates 2077 :
Ghatasthapana – Kartik 1 ( October 17)
Fulpati – Kartik 7 (October 23)
Maha Astami – Kartik 8 (October 24)
Maha Navami – Kartik 9 (October 25)
Bijaya Dashami – Kartik 10 (October 26)
Kograt Purnima – Kartik 14 (October 30)
Purnima – Kartik 15 (October 31)